LIVALL EVO21 Smart Helmet: 360 Active Protection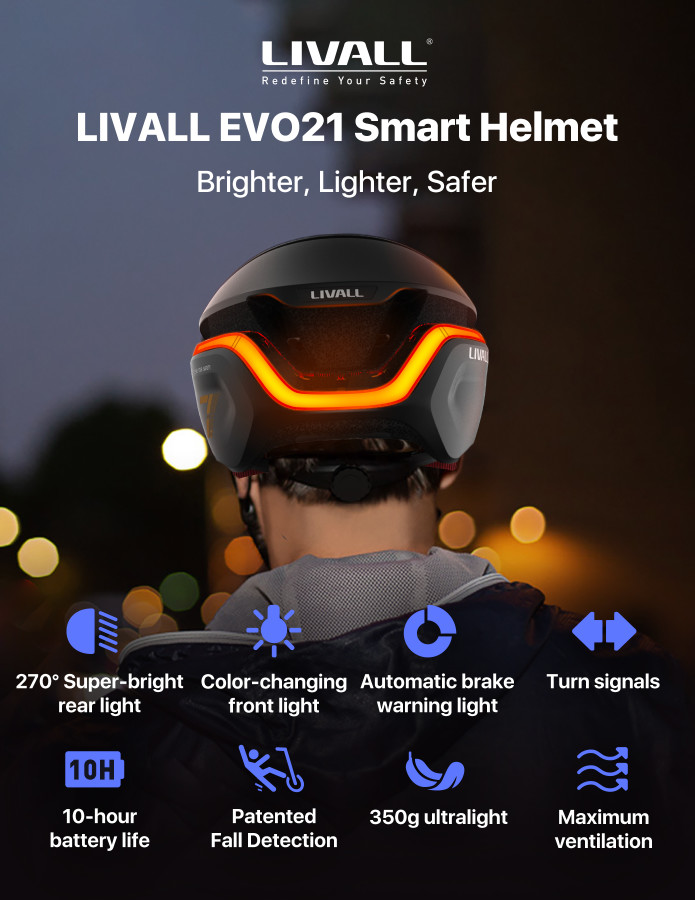 Helmets have come a long way since you were a kid. 
It's time to take them even further.  
Traditional helmets only protect you in case of a crash. Today's cyclist deserves a smarter helmet, with active protection to help prevent crashes before they happen.
That's why 7 years ago, LIVALL set out to design the perfect smart helmet. With LED warning lights and SOS alert technology for a new generation of cycling safety.
Today LIVALL brings you the crowning achievement of that dedication — the EVO21.
Brighter, lighter, and safer than any other helmet on the market.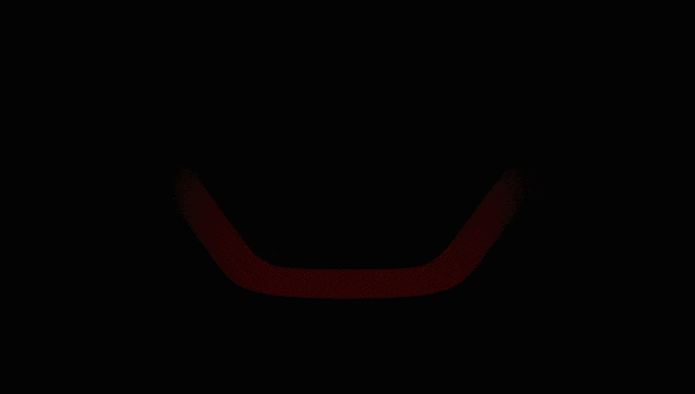 Brighter
Other brands claim to give you 360° visibility, but they often fall short. The EVO21 offers true 360° coverage, with a brake warning light and turn signals for visibility from all directions.
Lighter
With 30% more ventilation and 350g lightweight design, you'll stay ahead of the pack while cutting down on sweat.
Safer 
The LIVALL features patented fall detection and SOS technology. So in the event of a fall it sends a text message alert to your emergency contact with your exact GPS location.


When you're riding at night, the dangers are everywhere. The LIVALL EVO21 lets you keep your eyes on the road, instead of worrying what's behind you. 
Wide-angle front lights and super-bright 270° rear lights are integrated into the helmet, maximizing your visibility even at long ranges, while smart LEDs signal to drivers what you'll do next - stop, turn, or ride on through.
Plus, three dynamic light effects will make sure you get noticed on any street, improving your safety and helping you ride in style.

Get in sync with your cycle. The EVO21 has sensors to detect when you're slowing down or coming to a stop, and it automatically turns on the brake warning light on the back of your helmet. Letting other riders and motorists know you're stopping. And keeping you safe and secure, night and day.

Riding in the city demands your full attention - and both of your hands. 
The EVO21's turn signals operate the same way a car or motorcycle do, with super bright LEDs that signal your turn to drivers at the press of a button.
A remote on your handlebar communicates wirelessly with the EVO's smart LEDs. Letting you keep your hands, and your attention, right where you need them.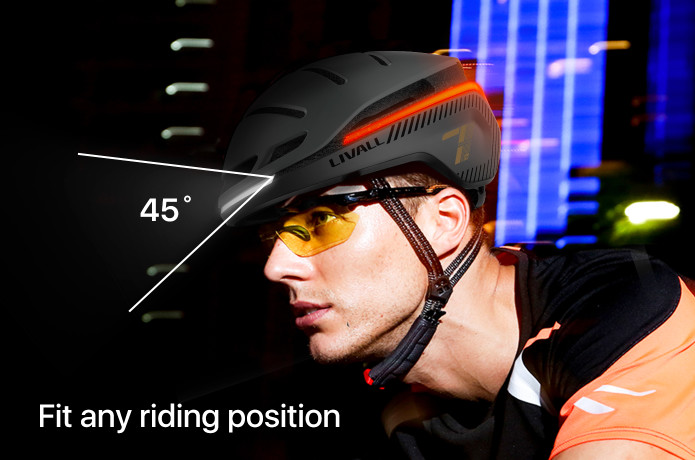 Cyclists tend to lower their heads to gain extra speed while riding. The problem is, this can reduce your visibility to drivers - even if your helmet has a light.
To tackle this challenge, we developed a front light with a 45°reach, so it can be seen even if you're tucking your head for a sprint. The EVO21's wide beam light will shine through at any angle, making you visible at long distances and letting everyone know you're coming.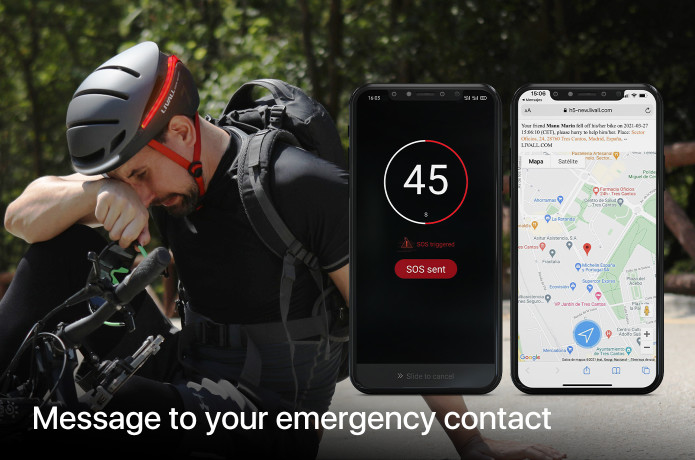 SOS alert systems are nothing new for LIVALL. We've been keeping riders safe by perfecting our fall detection and SOS alerts for years. The EVO21 comes equipped with our most advanced and up to date fall detection and SOS technology. 
It can detect falls anywhere above 1.5 meters, and triggers an SOS alert text message to your emergency contact within 90 seconds of a fall, giving them your precise GPS location. Meaning you can push further on your adventures knowing your loved ones will know exactly where you are within minutes of an emergency.
What about a fall where you're not injured, or if you simply drop your helmet? The EVO's SOS system gives you a 90-second window to cancel the alert. So you don't have to worry about false alarms.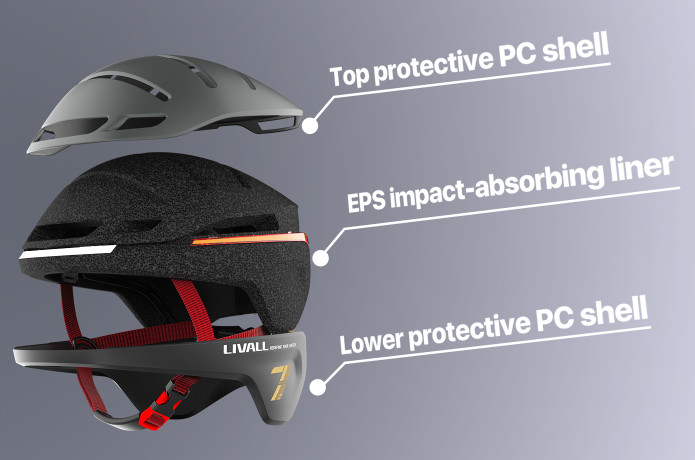 The EVO21 proven impact management system comes with dual protection systems designed to keep you safe.
The first layer is crafted from PC material that spreads the force of a crash throughout the shell, minimizing force and cushioning your head. The second layer of Polysource PSI is a special impact-resistant liner which absorbs the remaining pressure and keeps it away from your head. And the final layer is lovingly crafted out of memory foam, ensuring a snug fit no matter how long your ride.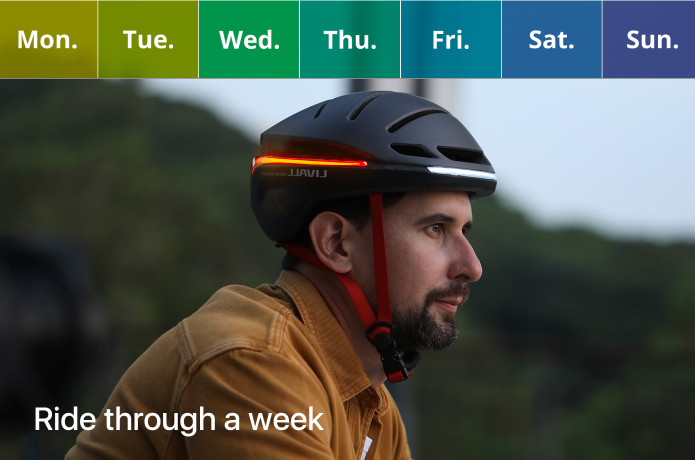 When you're riding down a pitch-black country lane the last thing you want to think about is your headlights dying. Does 10 hours of battery life on a single charge ease your mind? That's about a week's worth of commuting for the average cyclist.*
*It depends on the rider's actual usage. 

And when we say the EVO21 is a smart helmet, we mean it. Power on once to start your ride, and after that the EVO21 will take over, turning on within 4 seconds each time it touches your head and then powering down once you take it off. So you can forget about power buttons for the rest of your ride.
Plus the LED lights feature auto-brightness adjustment that adapts to the road. So not a bar of juice is getting wasted whether you're riding on dimly-lit trails or bright city streets.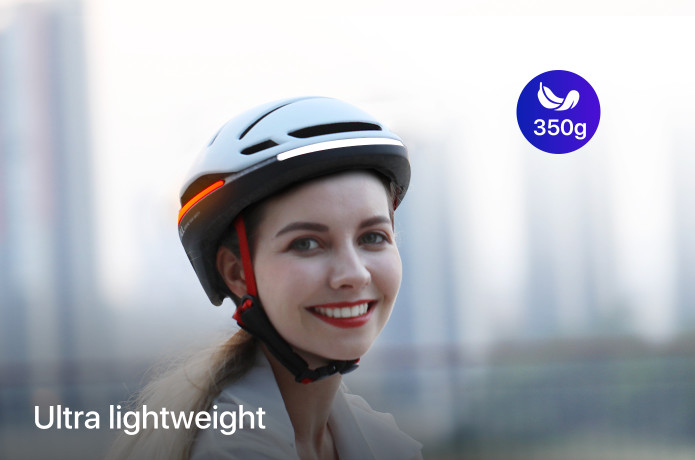 A great helmet should offer premium protection without weighing you down. 
That's why our engineers designed the EVO21 with the lightest but strongest materials available, to keep it at a feathery 350g while still offering unrivaled impact protection. Keeping you ahead of the pack while protecting your neck from strain.
So you can ride longer, and further, in comfort.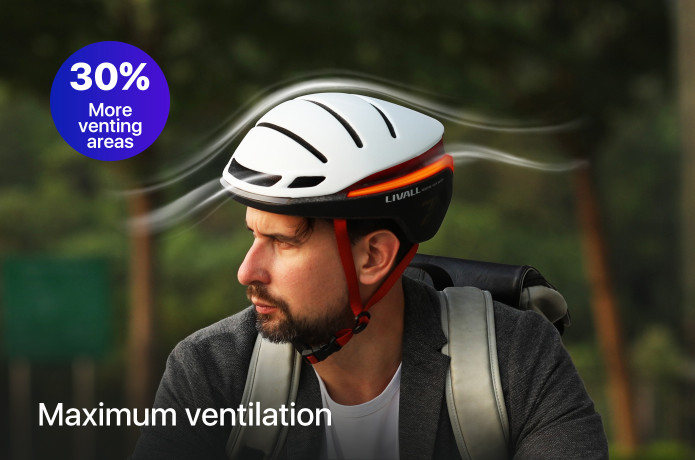 Cycling to work doesn't have to mean showing up with sweaty helmet head. 
The LIVALL is designed to keep you cool while keeping you safe. Intake ports on the brow of the helmet help usher in cool air, reducing sweat on your head and keeping it out of your eyes. 
Meanwhile, its streamlined profile is designed to help you cut through headwinds and defeat drag, keeping you ahead of the pack. And multiple vents across the helmet channel air to improve aerodynamics and keep you cooler, for longer.

Rain or shine. The EVO21 is IPX5 waterproof, so the LED lighting system and remote will run smoothly in any weather.  It passed our rigorous low-pressure spraying testing. The total water volume in this testing is much greater than that of rainstorm days. So the LIVALL EVO21 can not only deal with moderate rain with ease, but also survive heavy rain. However, for safety reasons, we don't recommend you riding on a rainstorm day.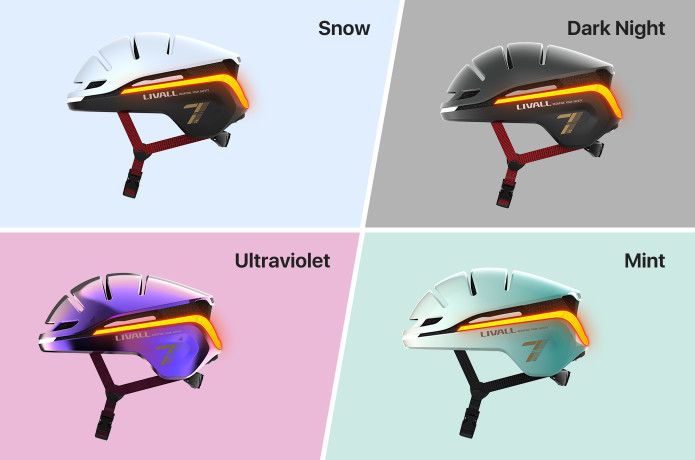 A head-turner in four high-gloss and wear-resistant colors, the EVO21 comes:
Brilliant in black
Proud in purple
Warm in white
Marvelous in mint
So you can look good, feel good, and keep on pedaling.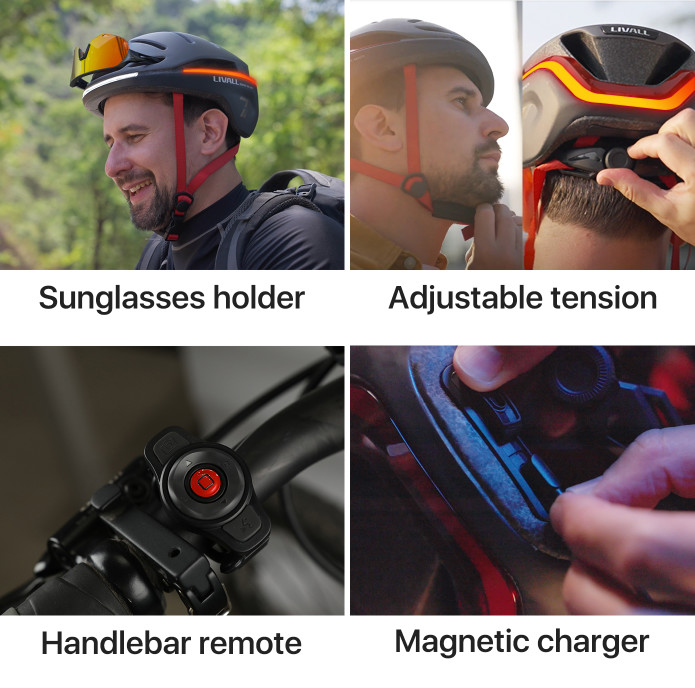 The EVO 21 comes bundled with features aimed at making your life on the road a breeze. Cycling sunglasses aren't just about fashion. If you've ever hit a wasp when cycling 20 km/h downhill then you'll understand. But they don't come cheap so making sure they're safe and secure is important. Our smart helmet comes with a built-in sunglasses holder, so your sunnies are always on hand.

All-in-one handlebar remote
What do you do when you find yourself in trouble? Safety is only one press away. Just press the button on your handlebar remote to send an SOS alert with your GPS location to an emergency contact.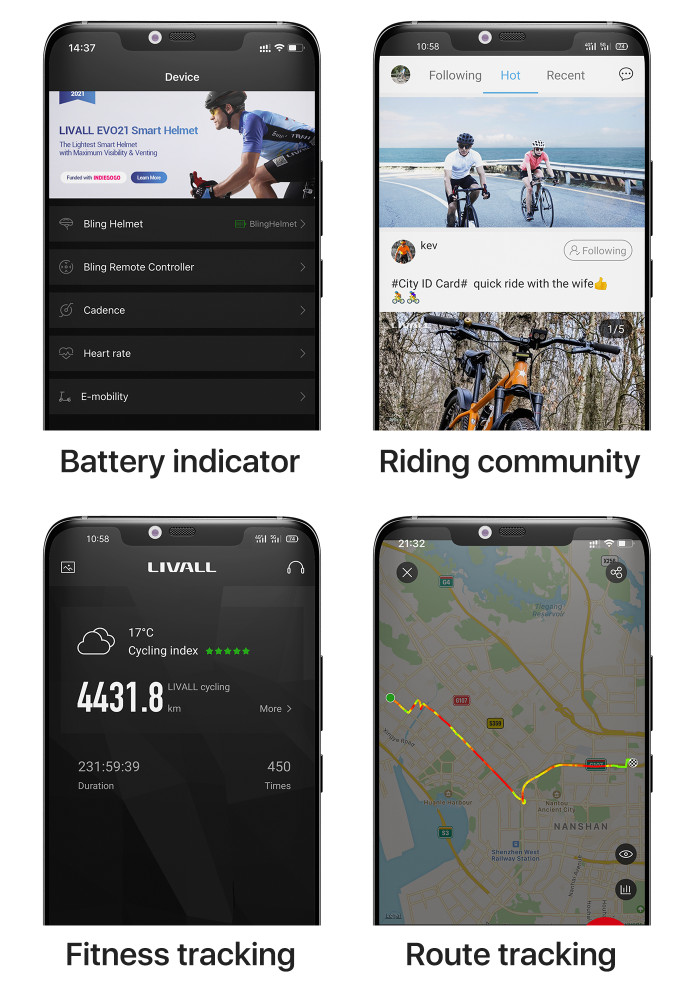 Get the most out of your ride with the LIVALL Riding App. Customize everything from light settings, turn signals, battery reports, and daily cycling records. And the App links up to LIVALL's community of like-minded riders. So next time you see a beautiful sunrise on your morning commute, you can easily share it with your friends.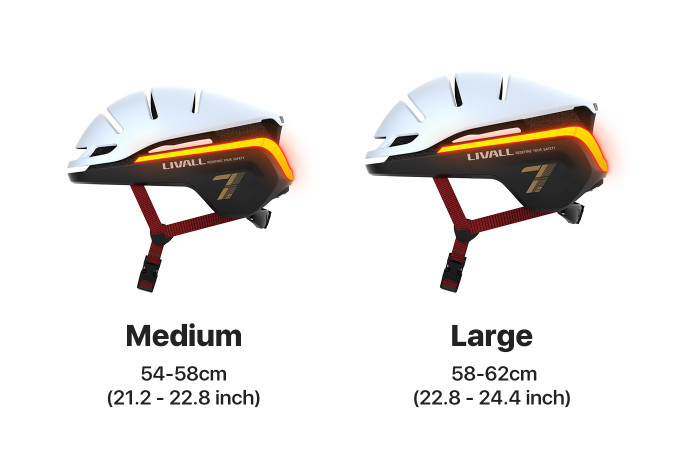 A snug and secure helmet fit is the key factor when it comes to safety. There's no point having a smart helmet if it doesn't fit. The EVO 21 comes in two different sizes, ensuring your safety no matter your head size.
How to measure the head circumference and choose the right size?
It's a simple task to measure your head circumference. Grab a measuring tape and place it around your head, mid-forehead just above your ears. Make sure you keep it leveled and read the cms/inches.